Posted here with permission from Crockpot Stuffed Peppers.
Crockpot Stuffed Peppers is another recipe in the series of easy crockpot meals that are one dish dinners. Oh, you can always add a side, bread or salad but that is entirely up to you!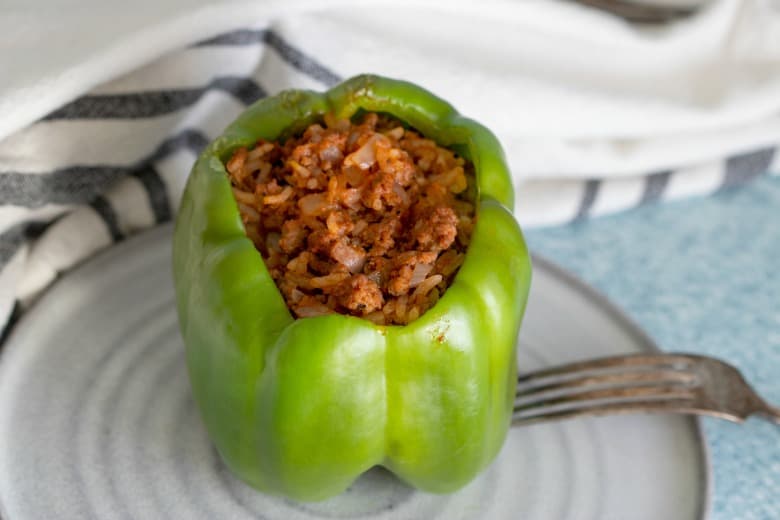 Our garden grows delicious bell peppers and that is how I started cooking Italian Easy Stuffed Bell Peppers. A more traditional recipe that everyone loves.
They are cooked in the oven and are delicious! The downside is that during the hot summer months, when the garden is producing bell peppers, they heat up the kitchen.
Or, when I have a super busy day and just don't have time to babysit a recipe...
Enter...Crockpot Stuffed Peppers - problem solved!
Now you get the delicious taste of stuffed peppers without heating up your kitchen.
And, as with any crockpot meal, you get it started and are free to do other things until supper time. I love hands-free cooking!
Make a Freezer Meal
If you enjoy preparing food ahead of time and freezing it for use later, you will love this recipe. Prepare the filling ahead of time, allow to cool and freeze.
When ready to use, thaw overnight in the fridge, stuff peppers in the morning and cook in the crockpot.
Crockpot Stuffed Peppers Step by Step
Brown the ground beef with onions. Add the garlic, salt and pepper to the ground beef and onion mixture. Photo 1
Add the tomato sauce and rice to the ground beef and mix well. Photo 2
Cut off the tops of the bell peppers and clean out the seeds. Spoon the ground beef mixture equally into the peppers.
Add 1 inch of water to the bottom of the crock pot.
Place stuffed peppers in the crock pot. Photo 3
Cook on low 6 hours or on high 3 hrs. Serve hot. Photo 4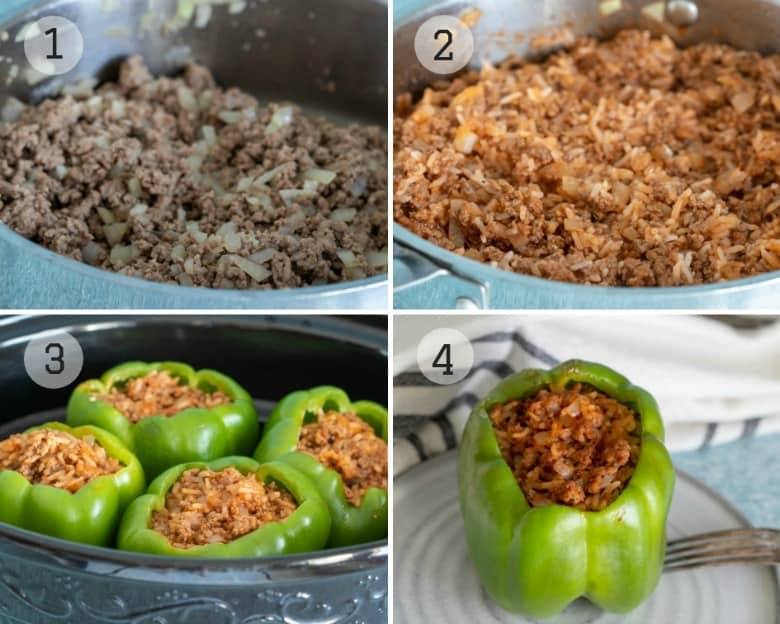 What is the Difference in Green, Yellow and Red Bell Peppers?
There is no difference except in the taste. Green, yellow and red bell peppers are actually all from the same plant but are just at different stages in the ripening process.
There is a permagreen variety that maintains its green color even when fully ripe but they are a bit less sweet than a red or yellow pepper.
When you plant a bell pepper plant and the peppers begin to appear, they will be green. As it ripens, the pepper will turn a yellow/orange and finally at its peak ripeness, red.
Which Bell Pepper is Best for Cooking?
Which pepper to pick for cooking is completely subjective and depends on the recipe. Some say green bell pepper is better for cooking because it has a less sweet taste.
Sweeter bell peppers (yellow and red) are definitely better for eating raw. And, I like having the colorful plate of food when serving Crockpot Stuffed Peppers.
Which is Sweeter - Green, Red or Yellow Bell Peppers?
Red bell peppers are the sweetest pepper because they are the most ripe. Yellow bell peppers are in between - they are sweeter than when green and a little more bitter than the red.
What about Chocolate, White and Purple Bell Peppers?
The different color bell pepper plants have been bred to produce the different colors. It is just like the rainbow colors of carrots that are now available.
Which Color Bell Pepper is the Healthiest?
Because red bell peppers contain more vitamin A, potassium and folate than the other colors, they would be considered the healthiest. (Source)
Why Are Bell Peppers Not Hot?
Bell Peppers do not contains capsaicin which is the chemical found in other peppers that gives the hot burning sensation.
Should I Remove the Seeds of Bell Peppers?
You will see the recipe below that the seeds are removed. They are harmless to eat but slightly bitter. I do not care for the texture they add so I remove them.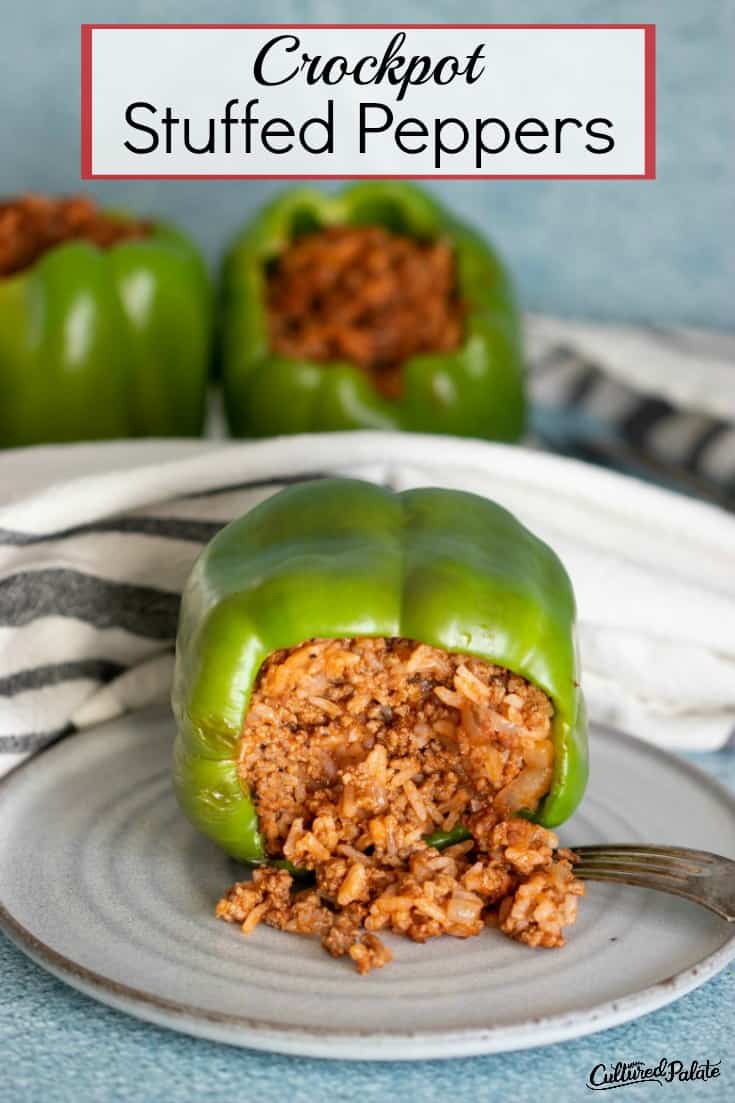 If you've tried Crockpot Stuffed Peppers or any other recipe on Cultured Palate please take a minute to rate the recipe and leave a comment letting me know how you liked it. I love hearing from you! You can also FOLLOW ME on PINTEREST, FACEBOOK, INSTAGRAM, YouTube and TWITTER.
What is Your Favorite Color Pepper?
Pin It!